Boarding at our Albia location
We provide a clean, climate-controlled facility, equipped with large dog runs so your pet has plenty of room! We provide beds, blankets, or mats to keep them comfortable, just like home! Two 10-minute walks and veterinarian-recommended Science Diet food are included, but feel free to bring your food from home if you wish! We also provide interactive feeder toys to keep your pet busy while they are here.
Please call our clinic at (641) 932-3455 to schedule boarding before filling out the form. Filling out the form does not reserve your pet's stay.
Rates

& Extras
Rates are charged per day, based on the weight of your animal. Ask the receptionist for your personal estimate today!
EXTRA WALKS
If your dog is high energy or nervous, this allows them extra time outside to burn off energy and reduce stress.
CUDDLE TIME/PLAYTIME
If your dog prefers to sit on your lap and get some loving attention, this is a great option.
TREATS
Dental rawhides and VeggieDents are given as extra treats. This provides mental stimulation and keeps teeth clean.
GROOMING
Nail Trims, Furminator brushing, and bath
​
What vaccinations are required before boarding?
We require documentation of the following:
DOGS:
Bordetella (Kennel Cough)
CATS:
*Fecal examinations are required because parasites are picked up in the environment and can be passed from animal to animal. If there is a positive result for parasites in our clinic, we have a protocol to follow to keep other pets from getting sick.
Boarding Hours:
Monday – Friday: 8:00 am – 4:30 pm 
Saturday: 8:00 am – 11:30 am
Sunday: 3:00 pm – 4:00pm Pick up Only
Why Board at a Vet Clinic?
​The staff at our Animal Health Center locations are trained to care for animals with special needs (ie. Diabetes) and handle emergency situations if they arise. Our full-service clinic also allows you to take care of routine vaccinations while they're here, as well as other services such as nail trims, cleaning ears, and expressing anal glands. We are trained to notice signs of stress and have the capability of prescribing and administering calming medications for animals who are having a hard time settling in.
Tips for reducing stress
Drop your pet off early to give them time to settle in.
Dogs outlet stress through activities such as chewing and physical exercise. If your dog is prone to anxiety, extra walks and chew toys/rawhides can help.
Bring your own food – this can help reduce the chance of
digestional distress.
Meet Paige – 

Kennel Manager in Albia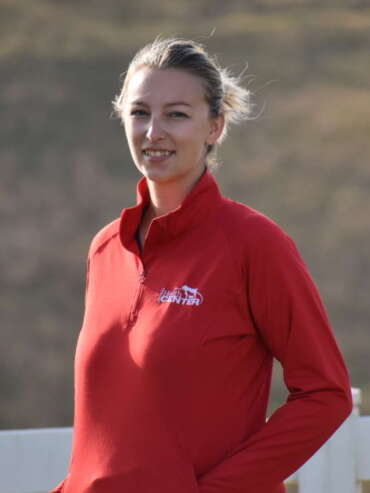 "Hi, my name is Paige and I am the Kennel Manager here at Animal Health Center of Albia. I started here in May 2017 and was trained under Myndi. I graduated from Iowa State University with a degree in Animal Science where I focused on companion animals and behavior. I have enjoyed getting to know my boarding animals and look forward to getting to know many more."